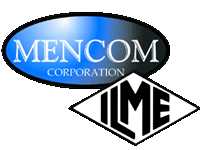 T&T Services, Inc.
1587 Christian Hills Dr.
Rochester Hills, MI 48309
Tel: (248) 609-0346
Fax: (248) 609-0347
Providing Marketing & Technical Direct Sales of Control, Safety, & Automation Components to Michigan Manufacturing
Founded in 1987, Mencom Corporation provides high quality, cost effective solutions that meet industrial electrical connector requirements. The Company is ISO 9001:2000 Certified, and has been servicing the industry for over 20 years. Mencom is also the North American Master Distributor for ILME rectangular connectors.

Products include: Quick Disconnect cord sets and receptacles in the MINI, MICRO (M12,) & NAN (M8,) Bus cabling for Ethernet, Device Net, Foundation Field Bus, and Profibus, ILME Rectangular Connectors, Panel Interface Connector, multi port Junction Blocks for MINI, MICRO, & NAN connections, Solenoid Valve Connectors, and other accessories like Cable Glands, thread adaptors, reducers, and enlargers.
To learn more about Mencom, ILME and their products, please contact us or click on the Mencom or ILME logo to connect with their website.

Click here to check out T&T Services' Informational Packet

Download it now, so you can take the time to look it over, and see what this as well as the other companies represented by T&T Services Inc. have to offer your business.